I took some days off and went to San Antonio, Texas and to visit my parents. That explains my absence from my blog. Today I was able to get my fiancee to take a few pics as we went out the door. We went grocery shopping and to Academy. Nothing to thrilling, but a good opportunity to dress nice.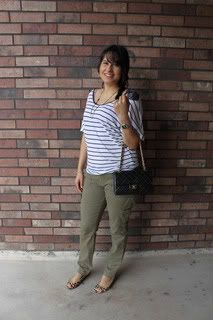 What I'm wearing:
Striped top-A.N.A
Skinny cargos-American Eagle
Leopard wedges-Steve Madden
Bag-Vintage Chanel
Watch-Casio
Charm bracelet-Tiffany & Co.
Brown bracelet, stud earrings-Forever21
Necklace-Claire's
Vintage looking ring-don't remember
Engagement ring-Kay's